Greetings and characteristics of the company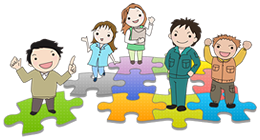 I believe all the staffs need to think hard toward the goals and challenge ourselves to new things.
Therefore, we can learn many lessons and grow up even though we can't reach one goal.
However, it's about PEOPLE. In any period, people are the key to business development. The people should always be energetic. I think we need to develop the environment which makes people grow up.
We are aiming for the company whose workers enjoy both business and private lives.
I really want to manage our business diversely and globally and always tell our staff to have the same idea as mine. I believe we can do anything if we try hard enough and have the strong faith to accomplish it. I want to share the dreams with as many people as possible and walk together.
Everyone has to feel accomplished to make our company have dreams. In other words we have to have a challenging mind. We try to move forward step by step in accordance with our growth. We don't stop and keep moving without fear. We grow up to take the nutrition from everything we do. The most important thing is a zest for living. Our company respects one's decisiveness to work for us
We are the company which has soil of peace and our people are highly motivated. That's why our people make their dreams come true. And we never forget that dreams are drawn by our people.
We are the company thinking that a company is it's people and our people are the assets of us.
Chairperson Michihito Suzuki